chocolate parade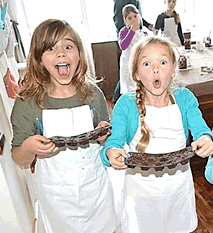 During this incredibly yummy workshop the children start by making a very simple variation of the classic Dutch 'pindarotsje', i.e. the 'manna pond' :)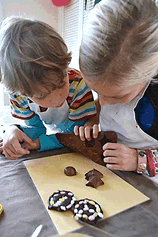 This manna pond helps to get used to the hot chocolate and to learn how to handle it, without getting chocolate all over the place... but it will also get their creative juices flowing!
After the manna ponds we continue with the real deal, using nice chocolate shapes to make bonbons! And of course various fillings will be hidden within :)
They will not be making Belgian bonbons with soft fillings, marble plates, thermometers en what not. Instead they will learn an easy and child friendly way to make lovely filled chocolates - Haagse bonbons!
And in between? Well.. lots of tasting and trying and lots of dirty chocolate faces :))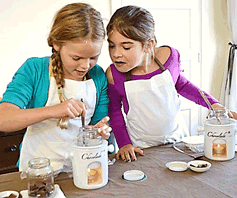 At the end of the workshop the children obviously want to take the bonbons home, so they need to wrap them! Not just in foil, but also.... in a nice chocolate box that they will fold and decorate themselves!
That is... if there's any chocolate left at the end of the party of course :)
Curious?
Watch the pictures of a chocolate parade at our studio!


target group | time frame
This workshop party is developed for children celebrating their 7th-12th birthday.
The maximum number of children to attend (including the birthday girl or boy) is 8.
The entire party takes 3 hours
ingredients
beforehand:
a "voorpretpagina", i.e. a website with funny "chocolate-games" for all the invited children to enjoy while looking forward to the upcoming party! (see here)
printable invitations to go with this particular party

during the party:

2 experienced party planners attending (Elles and Margot)
a clever script
various rounds of working with chocolate
tasting and trying
wrapping and chocolate box making
and of course bonbons to take home!

catering:

a lovely chocolate theme-cake with the name of the birthday boy/girl on top
drinks all around | funny theme cups and a very silly drink :)
several treats including tasting and trying chocolate and fillings!
location | at home or at our studio
This workshop party can only be celebrated at our studio, and since our studio is not available for children's activities during the weekend, this party can only be booked on Wednesdays and Fridays.
catering
Our catering consists of a nice chocolate birthday cake with the name of the birthday girl/boy on it, a very special drink (we don't want to spoil the surprise, but we call it "ditch water"... yes we do :) served in nice theme cups and several little snacks, both sweet and savoury.
costs
A) do-it-yourself | not applicable
B) party at yours | not applicable
C) party at ours | two party planners attending | catering included: 225 euro
party after 17:00 | evening surcharge
In principal, our children's parties end at 17:00 at the latest. At some occasions we may be able to organize a party ending at a later hour but in those cases, however, a 15% evening surcharge for the entire party is applied. (225 + 15% = 258,75)
late Friday night party | golden tip
If the birthday girl or boy attends school until 15:00 hours on Fridays, you may want to consider throwing a late party on a Friday, starting at 15:30 hours and including a 30 minute high tea (posing as 'dinner') at the end. All in all the party would than last until 19:00 hours, but on arrival at home the children have had their supper and, after all, it's the weekend, so perhaps their parents won't mind, just this once :) This scenario is rapidly gaining momentum, and all the children seem to love it, but off course it does come at a price. The total cost of this late Friday night party would be:
225 (the party) + 15% (evening surcharge) + 75 (high tea) = 333,75 euro.
party during the weekend | weekend surcharge
This particular party can not be celebrated on Saturdays and Sundays, because our studio is not available for children's activities during the weekend, and we cannot possibly move all our appliances to another location.
btw
All our prices include VAT.
optional extra's:
online photo album afterwards: 20 euro | example
homemade 'goody-bag-balloons': 2,50 a piece | example
'poffertjes' lunch for 8 children: 32 euro | extra guests (mam and dad?): 4 euro pp
high tea for 8 children: 75 euro | photograph of our high tea table
furthermore . . .
our studio
Our studio/atelier is located at the second floor and there is no lift. The address: Laan van Meerdervoort 710, Den Haag | tel: 070-364.36.25. One of the inhabitants of the house is a cat, but we can keep her out of the party room if you want; should any of your guests be allergic for (or frightened of) cats, please let us know so we can take precautions.
public transport | parking
Tram line 3, Randstadrail, stops practically in front of our premises - you need to get out at "Zonnebloemstraat". If you arrive by car there are no parking fees until 17:00 hours. After 17:00 hours you will have to pay 1,70 per hour, using your bank card (no coins unfortunately).
food allergies
Our catering is not necessarily suited for children with food allergies, but we are certainly prepared to take any allergy into account and change our catering accordingly, provided you let us know in due time.